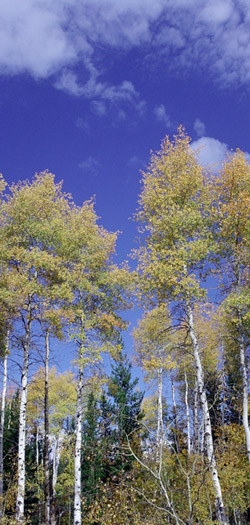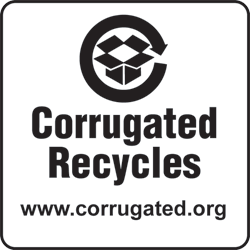 Environmental stewardship and conservation
The corrugated industry is focused on continuously improving all the ways our processes and products interact with the environment, from forest management to recovery and recycling at the end of each corrugated package's useful life.
Made from responsibly managed, renewable resources:
93% of corrugated boxes are made with material supplied by Sustainable Forestry InitiativeŽ (SFI) program participants. SFIŽ program participants are committed to sustainable forestry on their own forests, and are required by the SFI Standard (SFIS) to encourage their suppliers to practice sustainable forestry.
More wood grows in our nation's forests than is harvested (about 49 percent more), documenting wood fiber as a renewable resource. (USDA Forest Service)
The forest products industry plants 1.7 million new trees every day, contributing to the long-term viability of North American forests, preserving wildlife habitats, sequestering carbon dioxide and offsetting greenhouse gas emissions. (SFI)
The amount of standing timber in the U.S. has increased by 39 percent since 1952, and by 10 million acres between 1987 and 2002. (AF&PA)
Uses renewable energy:
Nearly 60 percent of the energy used by the U.S. paper industry comes from renewable biofuels.
Fossil fuel and purchased energy use per ton of product decreased by 9.2 percent at AF&PA member pulp and paper mills between 2004 and 2006. Fossil fuel and purchased energy use per ton decreased by 56 percent between 1972 and 2006.
The forest products industry produced 82 percent of the total biomass energy generated by all industrial sectors in 2005.
Reducing carbon:
U.S. EPA estimates that the amount of carbon stored in forest products is equivalent to removing more than 100 million tons of carbon dioxide from the atmosphere every year. This is the same as eliminating carbon dioxide emissions from 18 million passenger cars or 13 percent of all passenger cars on the road in the U.S.
The carbon sequestered by forests and forest products in 2005 was enough to offset approximately 44 percent of U.S. industrial carbon dioxide emissions.
Focused on source reduction:
The corrugated packaging industry practices continuous source reduction. From 1994 to 2008 the amount of corrugated used to ship a unit of domestic industrial production has decreased by 21 percent. Corrugated manufacturers have contributed significantly to this reduction by designing more efficient packages, strong papers and improving box plant converting processes.
Because corrugated packaging is custom designed and can be printed with high-impact graphics, it is a shipping container that can double as a merchandising package, helping product suppliers to reduce the amount of packaging required to successfully bring their goods to market.
Focused on source reduction:
Corrugated is reusable by businesses and households for transport and storage.
There are many examples of consumer packaged goods firms, retailers, offices and industrial users who purchase hundreds of millions of corrugated containers annually that are specifically designed for reuse.
The fiber in used corrugated is recovered and reused to make new products: 59.9% of recovered corrugated is used to make new containerboard. 15.3% goes into recycled paperboard, and exports account for 21.2%. (AF&PA)
Dedicated to recovery and recycling:
Corrugated is the most recycled packaging material today with 78.3% of all containers produced being recovered for recycling (25.6 million tons), up from 76.3% in 2006. The average corrugated box consists of 43% recycled fiber. (AF&PA)